Freda the movie
Freda the movie is a powerful movie and brave portrayal of a dynamic character. I am inspired by Freda Kahlo as she rose to fame without desire to be famous and this movie is a biography of her life, wild, erotically charged and edgy. I learned more about Freda by watching this movie and it gave me insight into her strength combined with her vulnerability masked with a fearless passion. I was moved by watching this movie and it also made me want to learn more and explore who she was as a person as I find her fascinating.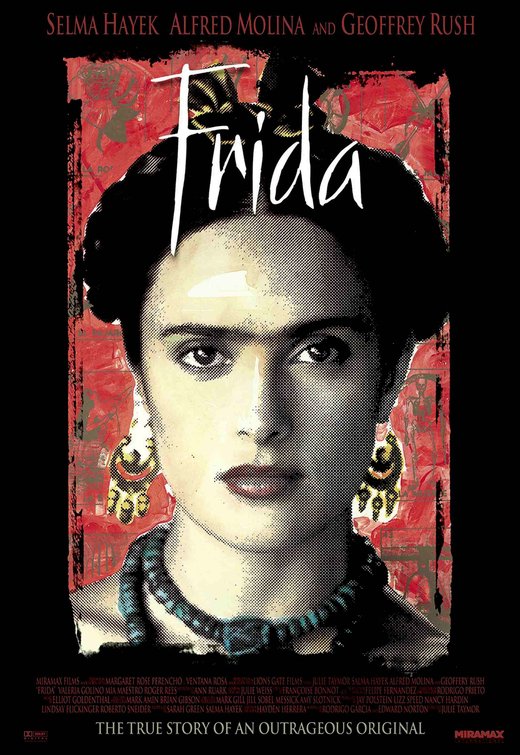 Upon reflection I don't think this movie does Freda justice as it skips between scenes somewhat erratically and in some ways fails to capture the essence of the women she was. It all gets lost a little in places though the movie is still a grand effort to tell her story.
I'm unsure all the nudity and sexual scenes were actual necessary and some of the focus which should have been on her work and her persona as an artist is lost amidst the trials of her marriage so the movie becomes imbalanced. Freda's paintings were a window to her soul and in a way the movie does not capture or reflect this appropriately.
Ironically the actress Salma Hayek isn't really believable as Freda simply because she is far too beautiful though there are attempts to down play this beauty. It is disappointing as the audience need to believe the message a biographic movie delivers and the glamour takes away from the authenticity in my view.  Freda's mono brow is a defining feature of hers and is created to liken the actress to the character.
The movie communicates a message of creativity emerging from adversity and challenge. For all of Freda's experiences she used her art as a conduit to bare her soul. This is inspiring as I feel as a creative being myself I want to be able to unleash that passion within me as well and be brave but harness it in a manner that it is controlled as well.
2) Dali exhibition
I was amazed to discover Dali began to draw and paint at the age of three. For me this was a remarkable fact I learnt. As soon as we began the exhibition it started with his journey. It was an eye opener as this was an insight into a different Dali not his famous more well known works but smaller intimate pieces which had great depth and meaning to me.
Upon reflection we all interpret art differently and this was evident to me as I discussed the art work with friends and peers. I have a greater awareness of differences in perception. Dali's style and variety of methods and subjects impressed me and I had to think hard to absorb and comprehend the extent of his genius and talent.
I was inspired by his work on clocks, how he explored time in his work and he was so skilled in his art. It would be difficult find anything negative to say about this artist and can only be inspired by his work. Each creation, the subjects, the colours were all superb. To view this was a complete privilege.
Dali's painting s do seem to speak to the audience telling a story a view and opinion or an observation. Seeing the paintings through different eyes of the artist communicates the depth, the talent of the artist.
Dali's work spoke to me and I personally felt this was an important turning point in my own development of art and how I create my own work. I aim to perfect my own creative artwork to the highest standard and to explore and be brave in my work. His poetic influence in his work inspires me to use more of my own poetry and his themes were clear as someone who knew what he wanted to depict and represent through his medium of art and sculpture.
3)   The Help
As a result I am exploring my own prejudices and attitudes considering my own challenges in pre judgements and adapting more awareness of my own potential discriminatory actions.
By watching The Help it outlined what happened in Deep South America and the challenges the home help maids faced regarding colour and prejudice. I considered the movie upsetting raising awareness of political issues of the time and it was an emotional depiction of the times in which it was set. It was deeply moving.
It was a reflection of Deep South America and the ignorance faced at the time towards black helpers in the white towns ships.  The story revolves around negative perceptions of the Black service maids who nurtured and were wet nurses for the white children. Negativity around separate toilets to avoid diseases is just an example. The movie raised many questions and made me think about how our prejudices are shaped and how this thought can influence action therefore when we discriminate as a result of the prejudice we hold. It also made me wonders about objectivity when entrenched in a society and how to have the courage to speak up or have a voice. It also highlighted to me what Nelson Mandela stood for considering the recent news and events of his passing.
Upon analysis the movie explores deep rooted prejudice and how this is influenced and shaped by politics, environment, peers and context where the unfair is deemed fair and injustice is lost in translation.
Critically reflect positive and negative
I liked the approach of the movie which showed different perspectives across diversity of different voices and the fear which surrounded 'taking a stance'
This gave me great insight and made me reflect in to real life barriers in history. Racism still existed so recently so we haven't moved on as far as we think.  Apartheid and ignorance is the core of this movie exploring attitudes and ignorance of racist perception.
4) Bike Brief and Amsterdam
During my visit to Amsterdam I was exposed to visiting the bike central of all places. During this visit I had a bike brief project and the brief contained elements to create a book cover. Being in Amsterdam inspired me naturally with the real life events of watching hundreds of bikes whizzing past. And the natural joys of riding a bike. Amsterdam's the top of the top when it comes to bicycle-friendly cities. Nearly 40% of all commutes that take place in Amsterdam are done by bicycle.

Riding a bike under the influence is a bad idea but I noticed a few wobbly riders. Public bikes are available to rent and plans to construct a massive bike parking structure at the city's main train station are underway, virtually eliminating any need for private cars.
Seeing the commute and so many bikes with their own culture and system made me reflect on the physical and environmental benefits of bikes and I mentally compared this to the UK and my own experience of roads. The bike riders of Amsterdam ride with conviction, confidence and security in the knowledge they have their own paths, lanes and system and are supported with this without feeling like a minority.
Of course riding a bike is healthier physically and does less damage to the environment so I can see how it appeals to the masses in Amsterdam. It made me evaluate my own feelings and I had to confess I would not feel safe riding a bike on Manchester roads sue to confidence and road knowledge and reading newspapers etc reporting the hazards. As a brief I found it interesting and exploring the subject from different perspectives gave me food for thought and was an interesting challenge. I think what struck me most was the 'bike culture' and how it united the community not divided the daily commuters. I would conclude it is a positive achievement for Amsterdam to be labelled a bicycle friendly city.
5)    Nelson Mandela
I have recently been able to watch a preview of the Late Nelson Mandela biopic, "A Long Walk to Freedom", a film portraying Mandela, the man and the legend, in a real and humbling manner, not leaving out any of the gritty details that make Mandela such a character to inspire others.
We often hear of Mandela and his struggles to rid South Africa of apartheid and injustice but it easy to lose sight of the fact that not only was Mandela human, like all of us, but there were many others who were victims and freedom fighters in that war. If we were to look at his colleagues and cell-mates, as well as the women and children that he held dear, though often hurting them, we would see that it took many hands to shape him into one of the most recognisable, acclaimed men in our lifetime.
The film was an unfiltered snapshot of Mandela's life, from his love affairs to his time in jail and was successful in conveying how hard and integral his, along with his colleague's, presence and actions were in South Africa, during that time. The film exposed a flaw in our own logic as spectators, proving to us that it is entirely possible to think more, or less, of a person than they actually are. I believe I will not be so quick to buy into hype and believe things as I'm told them straight away, as there is more to every man and woman than meets the eye and then the people who control the media may allow us to think? The film makes me think I need to ask more questions, reserve my own artistic judgements and check my assumptions.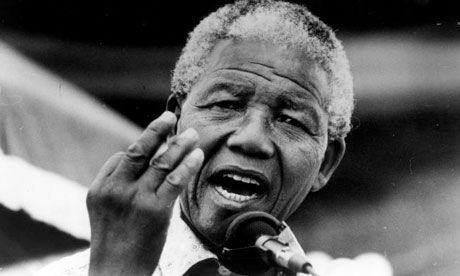 6) Zine Library
Visiting the Zine library in the Northern Quarter was a great experience to view peoples approach on how they wanted to represent something. That something was key and at the heart of Zine's. It struck me an interesting and a concept that stand out in the crowd. Most Zine's stood out to me because of the nonsense and exploration. In some ways they were random and exploratory and diverse. I enjoyed the meaning for what the Zine represents and the individual excitement to how these can be made and were made. Lots of different Zone's all together in one place.
Just the front page cover of how the Zine was produced page by page created a new and interesting approach from a designer's point of few. This was a chance to view design and creation in the real world. I loved feeling like a kid going through most of the Zines & to be honest wanted to stay in there and keep exploring to see what I may find. The Zine's did transport me back to my child hood and different times in my life allowing me to ponder and reflect. This was insightful and vivid. To be able to create this response by the Zine's showed me how clever and creative there were and I was so pleased to have spent the time there.  Sadly enough the place started to close so the good one and a half hours spent was just drooling, reflecting, feeling a positive vibe and getting excited with my peer Jamila. I can honestly say the Zine's gave me a buzz like no other and thoroughly enjoyed this experience.
 7)   The dairy of Freda Kahlo
Freda Kahlo laid bare anguish and despair in her paintings and she used her paintings to demonstrate her own acute disappointment. In comparison to watching her biographic movie I was transfixed by her diary as it was page after page of insight into this fascinating artist, her hopes, dreams, burdens, demons and achievements amidst the negatives somewhat lost.
The diaries give so much insight into Freda's won self hatred of herself and her internal focus on only intrinsic negativity. She used her art as her medium for communication and her diaries are a raw insight into what drove her art and soul.
It could be seen that Freda was very self obsessed depicting herself in much of her art but I just see a woman in pain and I feel glad she had this outlet to declare her pain and share her art in this way. The creative person in me appreciates her diaries to understand her more and to view her art from different perspectives as her paintings do tell a story and are very personal.
The diaries communicate a message of liberation through art, basically freeing her heart and mind to paint and create to share although her images are harsh and distorted. They are not conventionally beautiful but knowing the artist through her diaries helps to define beauty differently and explore our own definition of what is beautiful and what becomes distorted. This self evaluation of my own perspectives, dramas and views were influenced by reading the diaries. I was very moved and also emotional by what I read and I feel they were a significant learning journey for me.
8)   The bone castle in Prague
The Bone Museum was a museum we visited whilst on my recent trip to Prague. I was fascinated by the story of a monastery abbot who sprinkled a pocketful of soil on the cemetery that surrounds the All Saints Chapel. He had come back from a trip to Palestine and apparently the connection to this holy land meant the cemetery became a site many people wanted o be buried at. This was in the 13th century. As there were more burials and bodies increased there was less space. As a result of this the bones of 40, 00o people or more are contained in the chapel because they had to be dug up.
The floor of one of the floors in the chapel is divided so looks like there are huge skull and bones on a giant noughts and crosses board.
There is a massive chandelier which is made from bones as well. We heard lots of myths and stories about the bones and monks and how they came to be made into things over time such as the chandelier and a coat of arms.
In a positive way the museum is fascinating because of the history spanning hundreds of centuries. It has preserved history well.
In a negative way the place is weird and even creepy. I felt cold shivers while I was there and I imagined all the centuries of deaths and how the bodies ran out of space. The bones are of people who have died and gone.  It was difficult not to feel uncomfortable at the reminder of death.
The museum communicated history and death to me and I evaluated my own take on death and how comfortable I was exploring the inevitability of this. It was definitely an intriguing place and I concluded the museum raised many questions which we will never discover the answers to such as the biographies of the dead whose bones have been left behind.
9) Mucha Art Nuevo Prague exhibition

This was an awesome museum I visited on my recent trip in the heart of Prague. The museum is dedicated to artist Alphonse Mucha (1860-1939). There are more than 100 exhibits and a variety which include a whole range of photos and paintings. There are drawings and lots of memorabilia as well. The museum gives a huge insight into the huge amount of artistic work Mucha created and there is an emphasis on his time in Paris and the work he produced. He was a Czech artist and there is a documentary about him and his work which is a film shown at the museum as well.
Visiting both galleries in Prague was a great experience, to be in front of huge art Nuevo pieces and stylistically beautiful. I was very overwhelmed by the visit to the museum as the art was brought to life everywhere and the museum was a testimony to the artist and his work
The different style of the artist communicated itself to me through the various exhibits and walking through viewing each piece was very inspiring in all the different mediums such as paintings, charcoal sketches and drawings amounted to a huge amount of work and the dedication of the artist to his art shone through. Of course it was interesting to see the Czech influence throughout the work and compare it to the Parisian work as the artist had spent a period of time in Paris having a studio there which was reconstructed at the museum to give a picture of how it may have looked.
I evaluated my own styles in art and the mediums I use and which I feel most confident and comfortable with and the experience encouraged me to experiment more with different methods, to believe in myself and moved me to want to achieve more and find my own personal niche and talent in art and design.
10) 
NOISE Festival
 NOISE Festival is a not-for profit supported by AGMA that orchestrates a biennial festival which showcases emerging talent in the creative industries. It is positive in that their main ethos is that no matter what your background, who you are, you can be of talent and demonstrate this irrespective of age, race, where you are from, financial background education, socioeconomic circumstance or who you know. NOISE gives a voice, a platform and a chance for exposure and recognition via their online portfolio and artists community, their regular events and career days in schools in under privileged areas as well as the festival. The festival includes a host of huge names in the creative industries, rating and ranking new talent. Reflect NOISE is unique in its approach and message. It's inclusive, as opposed to exclusive and an admirable initiative. The noise reflects diversity in projects. They have worked with various artists from different genres and different ends of the spectrum to bring people and art together from Zaha Hadid (architecture) and Badly Drawn Boy (music). Communicate the message it highlights is that everyone matters and everyone can be recognised and appreciated for their talent through determination and hard work and therefore strive and achieve the recognisition they deserve in a competitive, yet supporting area. What changed you I feel like NOISE gives me a chance and presents an alternate route for me to break through into the creative industries, as it's changed my attitude and approach to seeking new and exciting opportunities in whatever forms they may come in.  
2)
For this section I was required to contact three separate artists, inviting them to view my portfolio and provide subsequent feedback. I attempted to contact a few artists including Shahida Ahmed Ceramics Artist and others but despite my valiant efforts evidenced in my emails and follow up reminders I was only able to generate two responses. I found this experience daunting but stimulating. I was apprehensive as to what the feedback could be and it felt like I was exposed through my creativity but looking back I found the experience stimulating and very positive.
Review; 1
Drew Whittam; Fashion Photographer & Writer, Editor @ ODDA Magazine.
The feedback from Drew is presented below. This feedback was quite overwhelming for me as well as rewarding. I felt my hard efforts were recognised by a professional in the field which has increased my core self belief.
"The body of work covers an assortment of PR media and utilises a diverse spectrum of creative skills and industry knowledge.
Stylistically, there is an innate sensibility with regards to aestheticism; and throughout all of the images, this is a common thread. This is by far the most intriguing element of the work, simply because it will allow for considerable artistic and conceptual growth if honed with accuracy.
This for me is at the forefront in the images that utilise graphics and illustration. The abstracted forms and compositions present in these works are reminiscent of the aesthetic of constructivism and the work of constructivist artists like Rodchenko. An understanding of composition and balance is clearly demonstrated here, and will prove to be an obvious hallmark of quality to prospective clients and industry professionals." (Drew Whittam).
Review 2: My second portfolio review was tutor Pat Carroll who was very helpful. We sat down and discussed my portfolio. He gave me constructive criticism whilst reviewing my work with me which was very interesting. It was interesting to see my work through Pat's eyes. This was helpful, as he is a fellow designer himself & understands the hard work that had gone into the work. He was impressed with my progression and my journey from the first year through to the third year. The advice he gave me was to know myself & find strength in my views & convictions. The reasons why I had chosen certain designs needed to be clear and he explained this to me. He advised me to be confident in what is in my portfolio & not to be afraid to edit through for up & coming work. He thought most of my work was strong & had strong concepts. Talking to Pat and considering his honest feedback has given me insight on what I want to portray and which messages I want my work to send out. I also became clearer on what I may need to consider changing or adding to my work.
3. Hopes, Fears and Opportunities
I will begin with the wonders of time. Time is precious and this year I have struggled. One of my greatest fears is not achieving and not succeeding. I often worry I may not be good enough. I feel through my time at Stockport College I have improved gradually and consistently. A famous quote my mother once sent me is:
 "Our deepest fear is not that we are inadequate. Our deepest fear is that we are powerful beyond measure. It is our light, not our darkness that most frightens us. We ask ourselves, who am I to be brilliant, gorgeous, talented, and fabulous? Actually, who are you not to be? You are a child of God. Your playing small does not serve the world. There is nothing enlightened about shrinking so that other people will not feel insecure around you. We are all meant to shine, as children do. We were born to make manifest the glory of God that is within us. It is not just in some of us; it is in everyone and as we let our own light shine, we unconsciously give others permission to do the same. As we are liberated from our own fear, our presence automatically liberates others." (Marianne Williamson).
My mother explained that this is an inspiring quote as we all have different strengths and weaknesses and we all have a light to shine. Her pride in me keeps me going and gives me the energy to continue. I have not allowed negativity towards my work chip away at my self belief though being insecure. I have always been taught to embrace criticism but some feedback has confused me as it didn't always encourage me to go on but as though I had to justify my skills or give up. I don't believe any student should be made to feel this way on top of the pressures of the work load.  With support and positive guidance from peers I have been able to overcome barriers and worked even harder to succeed.
This semester has made me feel really under pressure and I more than once got lost in my own chaos trying to find a way out of what I should do or could do. I don't think I should live in fear. Fear of failure is something we can't control but maybe we should remember and reflect on why we fear. I choose not be a failure as it's something that I don't think I would be able to live with even though this year I have felt like it is impossible to pass this module. Maybe there will that little light as in the quote above that might just give me a route through and possibly passing through my determination and strength. This semester I will embrace confidence and do my best with the tools and resources I have to achieve my goal. I will organise my work and plan my time wisely to be effective and efficient. I will want to go out talk to people openly sharing my portfolio without fear. I plan to explore opportunities bravely, listen to my instincts and let my passions guide my art.